Porcelain Veneers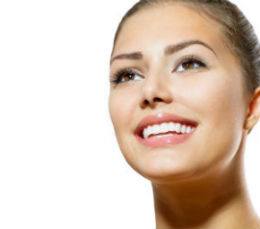 Many patients who want to make changes to their smile may consider the use of porcelain veneers. Porcelain veneers are a wonderful alternative to other restorations, but it is essential that patients understand all of their options before making a decision. Porcelain veneers are great for changing the size, shape, alignment and color of a tooth or several teeth. At Madsen & Hirsch Dental Care, we believe in conserving as much tooth structure as possible. Porcelain veneers allow us to remove very little enamel, if any, to bond the veneers over the top of natural teeth. These veneers are extremely thin in order to give a natural-looking appearance and to avoid standing out as a cosmetic restoration.
Veneers used to be extremely thick and unnatural in appearance, but over time with the improvements in technology and materials, we are now able to offer porcelain veneers that require little to no preparation of the natural tooth. Veneers are bonded to the front of a tooth, and are often so natural looking, that even our hygienists have trouble telling whether or not our patients have had veneers placed!
Veneers can be placed over teeth that are crooked or cracked in order to improve their appearance. They can also be used on teeth that are severely stained or discolored and do not respond well to teeth whitening procedures. Additionally, they can change the shape and size of a tooth after being placed over the top with our premier cement bonding materials.
Porcelain veneers are a great way to conservatively address problem teeth within a smile while still getting the positive, amazing results a patient wants. They can last up to 20 years or longer with proper care, and our past patients have been very satisfied with the results we have achieved through the use of these cosmetic restorations.
Dr. Madsen has been placing porcelain veneers since the 1980's and his patients still enjoy them today. Together with Dr. Hirsch, he is able to provide the ultimate in cosmetic dentistry for his patients. He truly listens to their concerns, desires, and wants in order to give them the best treatment and care possible. If you are looking for a local dental office that puts patient satisfaction first, call Madsen & Hirsch Dental Care today.