Invisalign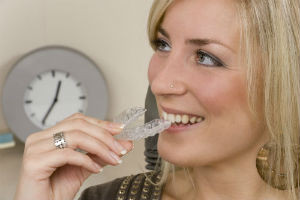 Invisalign is a popular orthodontic treatment for adults who are looking to have their teeth straightend to be more attractive, cleansable, and functional in their bite.  It is the perfect alternative to expensive and unattractive traditional braces, and is oftentimes similar in cost and treatment time. The primary benefit of Invisalign treatment is the fact that treatment is completed with nearly invisible aligners. These aligners are made of clear medical-grade plastic that fit over the top of your teeth in order to slowly push and move teeth into their correct locations over time. Most treatment cases will take anywhere from six to eighteen months to complete.
Invisalign clear aligner trays are usually changed weekly. They have small adjustments to them which allow them to move your teeth while you are wearing them. While they are worn all day and night, they are removed in order to eat, drink, and to care for your teeth. This is a huge benefit over traditional metal braces, which can make it hard to floss and properly care for your teeth during treatment. With Invisalign, you can remove the trays to clean them, as well as brush and floss your teeth as you did before. This allows you to keep problems such as periodontal disease at bay during your treatment.
You are a great candidate for Invisalign if your gums are healthy, you have no decay in your teeth and you have the motivation to make your smile look its best. Extensive issues such as a skeletal misalignment may be treated  better with traditional orthodontics.  Invisalign requires the patient to comply with the directions for treatment in order to experience the expected results in a timely manner.  When patients follow the directions and are compliant, they are  extremely satisfied with their smile. Additionally, patients will want to continue to wear a retainer in order to maintain the results of their treatment.
We want your treatment to reflect your unique smile, lifestyle and personality. Call us today at Madsen & Hirsch Dental Care to discuss any questions you might have about Invisalign or make an appointment for a FREE consultation by calling 608-216-2613.