Blog
Understanding the Five Stages of Tooth Decay | March 2020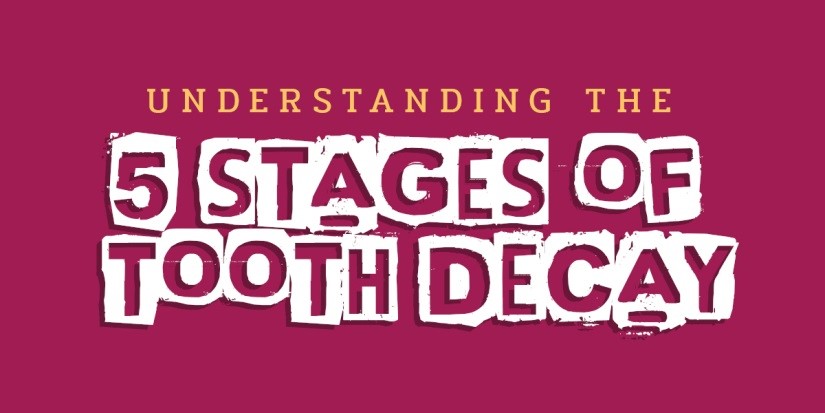 Did you know there are five distinct stages of tooth decay? And, that in the first stage of decay, you can actually take steps to reverse the progression of the disease? Indeed, it's true. In the first stage of decay, whether you're a child or an adult, the application of fluoride via fluoride treatments, your toothpaste and even the local water supply can stop a cavity from penetrating through the enamel and reaching its second stage. Even the saliva in your mouth and the foods you eat help to re-mineralize a tooth in jeopardy. But that's just the first stage! What about the rest? Understanding how a cavity progresses can assist you in preventing each successive stage from occurring in your own mouth and in your child's mouth.
Stage One: White Spots
In stage one, the tooth begins to show signs of strain from the attack of sugars and acids, and white spots will begin to materialize just below the surface of the enamel. These white spots are representative of the demineralization of the tooth and can be easy to miss because they're likely to occur on your back molars. A dental exam, of course, is designed to catch such cavities! Can you see why regular visits to the dentist are recommended? As mentioned previously, at this stage, the cavity can be repaired without the need to excavate the tooth.  The dentist and the hygienist are trained to spot these areas and will notify and educate you about how to prevent the weak spot from progressing.
Stage Two: Enamel Decay
 Stage two marks the beginning of the end for the surface enamel that is being attacked. Initially, the tooth erodes from the underside outward, so the outer enamel will still be intact for the first half of this second stage. Once the cavity breaks through the surface of the enamel, there is no turning back, and you will need to have the cavity corrected with a filling. This is why it is critical to have regular exams.  When the tooth is at this stage you still may not notice the break in enamel.  The filling will be small at this point if detected early.
Stage Three: Dentin Decay 
If a cavity in your mouth were to progress beyond stage two without you knowing, you'd tend become aware of it when it started to hit stage three because it would probably start to cause some pain. At this level, the cavity begins to eat away at the second level of tooth material that lies beneath the enamel: the dentin. A filling can still be used to stop the onslaught of bacteria assaulting the tooth in order to prevent the cavity from reaching the tooth's most critical component: the pulp.
Stage Four: Involvement of the Pulp 
Once the cavity reaches the pulp, it's going to hurt- A lot.  Or, the tooth may be so weakened, it fractures or breaks. So if you've unfortunately missed all the signs to this point, instead of a small filling or a reversible spot, your tooth may become an emergency situation for you. Stage four is serious, and a root canal is the only option of treatment at this stage, save for a complete extraction.  Fortunately, due to advances in dentistry, both of these procedures can be done comfortably for you, but at a much greater expense than preventive measures.
Stage Five: Abscess Formation
In the fifth and final stage of a cavity, the infection has reached the tip of the root and exited the tip of the tooth's structure. This in turn infects the surrounding tissues and possibly the bone structure. Swelling would be commonplace and pain severe.  An abscess can be fatal if not dealt with immediately. Root canal or extraction would be the order of the day should decay reach this stage.  You need to call the office right away if this happens so you can be evaluated and most likely prescribed antibiotics.
As you can see, cavities don't happen overnight. In the early stages, regular visits can stall and reverse the progression of these dastardly little devils, so it really does pay to visit the dentist at pre-selected intervals. You and your children can stay away from stage five their whole lives, and if a little bit of prodding to get them to the dentist accomplishes that, you can rest easy despite the griping.  And don't think cavities are just for kids.  Older adults often end up with recurrent decay around old fillings or crowns due to inadequate oral hygiene, dry mouth due to medications, or other health factors. So remember the old adage you have often heard:  Prevention is the Best Medicine. 
All About Invisalign | February 2020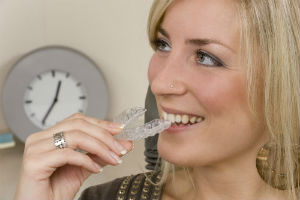 Invisalign is a popular orthodontic treatment for adults who are looking to have their teeth straightened to be more attractive, cleansable, and functional in their bite.  It is the perfect alternative to expensive and  unattractive traditional braces, and is oftentimes similar  in cost and treatment time. The primary benefit of Invisalign treatment is the fact that treatment is completed with nearly invisible aligners. These aligners are made of clear medical-grade plastic that fit over the top of your teeth in order to slowly push and move teeth into their correct locations over time. Most treatment cases will take anywhere from six to eighteen months to complete.
Invisalign clear aligner trays are usually changed weekly. They have small adjustments to them which allow them to move your teeth while you are wearing them. While they are worn all day and night, they are removed in order to eat, drink, and to care for your teeth. This is a huge benefit over traditional metal braces, which can make it hard to floss and properly care for your teeth during treatment. With Invisalign, you can  remove the trays to clean  them, as well as brush and floss your teeth as you did before. This allows you to keep problems such as periodontal disease at bay during your treatment.
You are a great candidate for Invisalign if your gums are healthy, you have no decay in your teeth and you have the motivation to make your smile look its best. Extensive issues such as a skeletal misalignment may be treated  better with traditional orthodontics.  Invisalign requires the patient to comply with the directions for treatment in order to experience the expected results in a timely manner.  When patients follow the directions and are compliant, they are  extremely satisfied with their smile. Additionally, patients will want to continue to wear a retainer in order to maintain the results of their treatment.
We want your treatment to reflect your unique smile, lifestyle and personality. Call us today at Madsen & Hirsch Dental Care to discuss any questions you might have about Invisalign or make an appointment for a FREE consultation by calling 608-216-2613.
Bad Dental Habits To Break | January 2020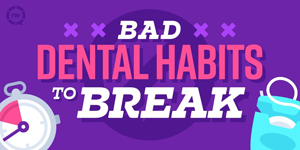 Nobody's perfect. We all pick up bad habits along the way. Even our oral health isn't immune. Try as 
you may, odds are you've picked up a habit or two in the name of convenience.
That's totally okay! We get it. And that's why we're here: to ensure your oral health is in fantastic shape.
Here are a few less-than-stellar dental habits that we often see, with some tips on how to break them.
Putting Off a Dental Visit
You knew we had to start here! If you don't visit the dentist every six months, or if it's been a while
since we've seen your smile, schedule an appointment today!
You can call us at 608-216-2613 or go through our scheduling portal HERE- to make an appointment. Staying on top of your health today can save yourself a lot of time and money down the road. Problems caught early and small are easier to treat and always less expensive than waiting till it hurts.
Not Flossing
Again, you probably figured this would be on here. And you know what, it's for good reason.
Flossing helps prevent decay and gum recession. It's super important!
So how can you remember to floss more? Put a post-it note on your mirror as a reminder. Invest in a flossing stick — some people find it much easier than the traditional method. Floss at the same time each day to build up a routine. You can also start small, setting a goal of once per week. After that settles in you may find yourself craving a good floss after brushing.  If flossing is difficult for you or you have hard to reach area, a water flosser or waterpik may be the answer for you.
Not Brushing Long Enough
Many people simply aren't being effective with their oral hygiene routine because they just aren't brushing long enough.  A 30second to 1 minute swipe with the brush around the mouth just isn't good enough. You should be spending a minimum of 3-5 minutes brushing your teeth to make sure you are getting the backs, fronts and tops and bottoms of all your teeth. Keep your toothbrush at a 45-degree angle toward the base of the gums, and move the brush in a gentle, circular motion. Using an electric toothbrush such as a Sonicare or an Oral B brush with a timer does a far better job than a manual brush. The brushing and not the toothpaste is what keeps the biofilm from organizing. Organized biofilm is what causes decay and gum disease. Use a minimal amount of toothpaste and brush longer.
Using an Old Toothbrush
When was the last time you changed your toothbrush? It's not something you often think of, right?
The problem with using an old toothbrush its frayed bristles can end up damaging your teeth rather than cleaning them properly. Also, an old brush will accumulate bacteria, You should change your toothbrush every three to four months. A good mnemonic device is to change your toothbrush on the first day of every new season. That way you'll never have an old brush!
Letting the Water Run
This one is self-explanatory, and it's an easy fix. After you wet your tooth brush,turn off the tap.
That initial wetting is all the water you'll need. Turning off the water is good for your bill and great for Mother Earth.
Filling In The Gaps: Dental Implant Basics | December 2019
DENTAL IMPLANTS ARE
permanent false teeth designed to look just like your other teeth. They're a popular alternative to dentures or bridges, and the American Dental Association considers them to be "one of the biggest advances in dentistry in the past 40 years."
How Do They Work?
Unlike dentures and bridges, which don't feel or look entirely real and must be removed and cleaned outside of your mouth daily, dental implants are surgically affixed to your jaw. In place of the roots your native teeth have, the new tooth is held in place by a surgical screw. The crown is carefully selected to match the shape and color of the surrounding teeth, so it blends right in.
Dental implants can be used for a variety of situations, such as replacing a single, missing tooth; replace and support bridgework; and to help support removable dentures. Additionally, Drs. Madsen and Hirsch complete several other oral surgeries in conjunction with dental implants, such as bone grafting and tooth extractions. These procedures can even be done with sedation dentistry to allow you to have a positive experience at the dentist, regardless of any past fears or anxieties you may have about visiting the dentist's chair.
Who Are They For?
If you've lost teeth due to injury or disease, dental implants could restore your smile more effectively than other options. However, not everyone with missing teeth is a candidate. Just as with real teeth, oral health is crucial to successful implants. Before you get an implant, you need good, strong bone and healthy gums to support it, and once it's in, you have to keep it clean by brushing and flossing. Regular dental checkups are critical in maintaining dental implant health and longevity.
But What About Braces?
If you don't already have your implants but need orthodontics to straighten your teeth, we recommend you do Invisalign . Because implants are screwed into your jaw bone, they will not move, which can make them excellent anchors to help move your other teeth where they need to go—but only if they're in the right place to begin with. If not, your existing implants may need to be removed and then reattached after you've finished with your orthodontics.
Still Have Questions? We Have Answers!
If you're thinking about getting dental implants or know someone who is, we can answer any questions you may have about them. We're here to help you achieve the smile of your dreams!
Dr. Madsen will be happy to answer your questions in a free consultation.  Call (608) 216-2613.
We love our patients!
The content on this blog is not intended to be a substitute for professional medical advice, diagnosis, or treatment. Always seek the advice of qualified health providers with questions you may have regarding medical conditions.
Foods That Cause Tooth Decay | November 2019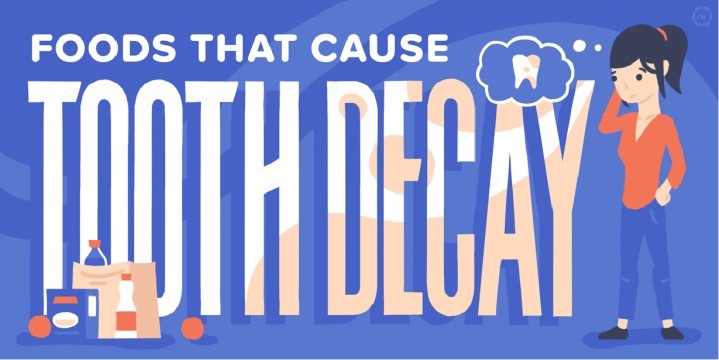 When it comes to tooth decay, it's important to know the main culprit – acid. 
Acid is what eats away at our enamel and causes cavities.
Acid can enter our mouths in one of two ways: either directly through what we eat 
(citrus fruits) or as a byproduct when oral bacteria consume the sugars that we eat.
Ultimately, a simple way to identify foods that cause tooth decay is to ask whether it's acidic or sweet/starchy
.
•
Acidic foods include things like citrus fruits, tomatoes, vinegar, kombucha and sour candy.
•
Sweet/starchy foods include things like candy, soda or sugar-sweetened beverages, fruit, bread, cereal, pasta and crackers.
The longer these things interact with your teeth, the greater the chance for tooth decay to occur.
For example, sipping on soda throughout the day, or chewing a gooey caramel treat, increases the amount of sugar that coat your teeth. Bacteria love to feast on this sugar, creating an acidic environment and putting your teeth at risk for decay.
•
Conditions such as gastric reflux or bulimia can also create an acidic environment in the mouth which can be extremely destructive to tooth enamel contributing to tooth abrasion and wear.
To help protect your teeth against tooth decay:
-
Reduce your consumption of sweets and refined starches
-
Enjoy acidic foods in moderation or as part of a meal
-
Decrease or eliminate your consumption of soda or sugar-sweetened beverages
-
Swish with water after meals and snacks
-
Maintain good oral hygiene to brush away plaque buildup (floss at least once a day
-
-See your physician if you suffer gastric reflux or bulimia.
And, as always, make sure to visit us regularly so we can remove tartar buildup and assess for early signs of decay. 
https://rwl.io/2iVBcfy
The content on this blog is not intended to be a substitute for professional medical advice, diagnosis, or treatment. Always seek the advice of qualified health providers with questions you may have regarding medical conditions.
How to Handle Common Dental Emergencies | October 2019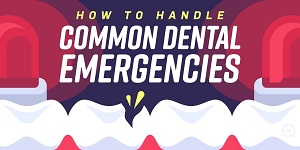 Let's say you sprained an ankle. What are your first steps? Most of us probably would say something along the lines of plop down on the nearest couch, ice the ankle, elevate it, add some compression, and see a doctor if it's a bad sprain.
But what about a dental  emergency, like a broken tooth? What's your first step?
Don't be surprised if you don't know. Most of us aren't that familiar with the recommendations. But after this post, you'll be the go-to source if it happens.
So What, Exactly, is a Dental Emergency?
A dental emergency is any event that warrants immediate care to save a tooth, stop bleeding from the mouth, or relieve tooth or mouth pain. Some of the most common examples we see at Madsen & Hirsch Dental Care include a cracked or knocked-out tooth or a toothache.
Tips for Treating Common Dental Emergencies
We see our fair share of dental emergencies here in Madison, WI and we're equipped to handle them all.
If you or a family member experiences any of these, call us as soon as possible, and we'll let you know if you'll need to see us.
Knocked-out tooth
For adults, place the tooth in the socket without touching the root; if that's not possible, place the tooth between your check and gums, in milk, or in ADA-approved tooth-preservation solution. It's crucial to keep the tooth wet.
For children with baby teeth, come to our office as soon as possible; do not try to place the tooth in the socket.
Cracked tooth
Rinse your mouth, and place an ice pack on your face to reduce the swelling. Wrap the tooth piece that has fractured off in wet gauze or a towel, and bring it to the office.
Toothache
Use warm water to rinse your mouth, and gently floss to remove any food.
If you note any facial swelling (which may signal infection), come to our office or your healthcare provider as soon as possible.
Bitten Tongue or Lip
Clean the area with a cloth, or rinse your mouth with water. Apply an ice pack to the area. If the bleeding doesn't slow, come to our office or go to the ER.
Tips for Preventing Emergencies
Taking the right measures can keep your teeth safe. Here are a few easy precautions you and your family can take each day:
•
Use scissors or a tool, rather than your teeth, to open or cut items
•
Wear a mouth guard when playing high-impact sports, like football, basketball, and soccer
•
Wear a helmet when using a bike, scooter, or skateboard
•
Never chew hard foods, like ice and hard candy
•
Help young children keep toys and small items out of their mouths
Need More Information?
Give us a call or send us an email. Everyone at Madsen & Hirsch Dental Care is happy to answer any questions you have!